SENTRY PORTABLE SAFES
Sentry 1100 Fire-Safe Security Chest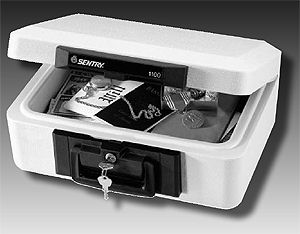 Sentry 1100 Fire-Safe Security Chest
Safely organize financial data, canceled checks, personal and medical records, family heirlooms, and many other vital documents and mementos.
• Fire-Safe Security Chest
• Underwriters laboratories fire rated protection for valuables and documents of at least 1/2 hour in temperatures to 1550 F
• Key lock for security
• Convenient handle for portability
• 1 year limited warranty
• Free replacement after fire within 3 years
• Inside: 3-1/2"Hx12"Wx7-1/2"D
• Capacity: 326 cu. in.
• Outside: 6-1/2H"x14-1/4W"x11"D
• Weight 17 lb.

Special Price: $29.95 + additional $20.00 for Shipping*

*FREE SHIPPING IS NOT AVAILABLE FOR THIS PRODUCT

Another Sentry 1100 Fire-Safe Security Chest survives a fire, the contents intact!