Complete Miniature Wireless Camera




Mini COLOR camera system with receiver and audio microphone!

Measuring about the size of a quarter, concealing this camera is not a problem. The transmitter uses the 2.4 gHz switchable frequency. Digital circuitry ensures no lost video from external wireless devices.

Range is a maximum of 500 feet through walls. In an open area the transmission range jumps up to 1000 feet.

Capture your moment with colors using one of the latest technology and version available for a miniature camera in the market. What's more...you can listen with the built-in mic.

Super Easy to Setup & Start Watching!

Quality USA made CMOS image sensor. Suitable for video conferencing, video phone, video doorbell, video electronic mail, pc multimedia, toys, security monitor, medical instrument, vehicle rear view, etc. The camera can send video and Audio for 8 hours non-stop if powered by a 9-volt alkaline battery (Duracell/Energizer). No work duration limited when it is hooked up with a AC-DC adaptor. Installation is simple with an ordinary television. If needed, the video can be recorded in an ordinary VCR without adding any other accessory. The camera can run 24-hours a day without over heating.

Removable/Adjustable mounting bracket

Switchable frequency (4 channels)

Runs on 9v battery or the the included AC/DC adaptor

For Indoor Use Only
Complete Wireless Video Setup - 1 Camera


Great COLOR camera system with receiver to watch over your home, warehouse, office, or retail business. All you need is a monitor and a VCR if you want to record what the camera 'sees'. The camera transmits wirelessly so you don't have to deal with running lots of cables.

The Spycam 208 is a single camera system for those that need to watch over a single area. It's easy to set up and get running. Just add a monitor and/or a VCR if you think you might want to record what the camera sees.

Transmission/receiving Frequency - 2.4 Ghz
Valid Distance 30-50 meters
Camera can be powered with the included A/C adapter or with a 9 volt battery.
Power Adapters Included

For Indoor Use Only
Wireless, Motion Detecting Night Vision Video Camera
with Video Recorder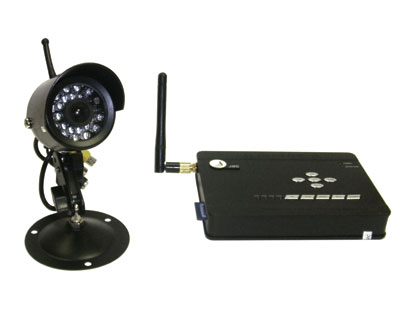 Why Record Everything When You Can Record Only When Something Is Happening?
This motion detection DVR system records on a removable SD memory card.

Insert a 64MB to 2GB SD memory card and start recording. Each system includes a 64MB card. On a 64MB card you can store 8,000 images or 200 video clips of 10 seconds. If you put a 2GB card in (not included) you can store as much as 28,800 images or 4,380 video clips of 10 seconds.

The motion sensing area can be changed for your needs. There is a small, medium, and large area that can be moved around the screen wherever you want the camera to pick up movement. You can also choose to take photos of when movement is detected or shoot .avi video clips. Every time movement is sensed the system will automatically shoot a photo or a video. There is also a sensitivity of movement function, so you determine what needs to be recorded.

Each system comes with a 1/4" CCD indoor / outdoor wireless or wired camera. The camera has 23 infrared LEDs for a night vision range of up to 50'. Easy setup plug and play! Play back video using a television, monitor, or computer. Comes with everything you need to get started. 64MB SD memory card is included!