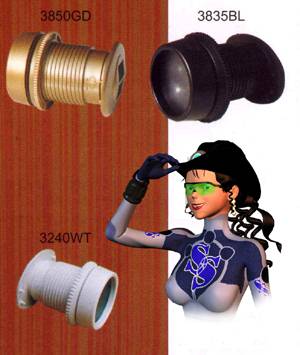 NOTE: The Door Viewer
has a camera like optic lens. As a result the view left to right will be reversed.
Super Wide Angle Door Viewer
Eliminate the strain on your eye. Just take a glance before you open your door. Replace your peephole door viewer with a Revolutionary Safety Optical Security Instrument.

Just like having a miniature video monitor at your door. The New Super Wide Angle Door Viewer makes the peephole obsolete. You can stand a few feet away and see a clear image of the person outside your door. No need to put your eye up to the door and squint through a tiny peep hole.

For safety and convenience, choose the Wide Angle Door Viewer. Add a heavy duty 1-3/4" Hole Saw with pilot drill bit for only $7.95. Recommended for doors up to 2 inches thick.
(Available in Dark Grey and Gold)